Ortho-Rite Orthotics at Rockside Chiropractic
Custom Orthotics for our Garfield Heights Patients
Ortho-Rite Orthotics
Many back and lower extremity (ankle, knee, and hip) problems can be helped with proper arch support and shock absorption from the bottom of the feet. The feet are the obvious foundation for our entire body. If your condition/injury is worse while walking or standing typically a custom made shoe insert can be of tremendous help. That is why as part of your initial assessment we will determine if a custom orthotic is medically necessary and could be of help.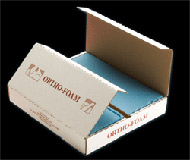 Impression Foam Casts
In our Garfield Heights office, we use impression foam (as seen to the right) that is an easily compressible foam, engineered for manufacturing accurate orthotics. Accurately capturing and reproducing the plantar (bottom) surface of your foot is the key to a great, supportive, shock-absorbing shoe insert. Ortho-Foam is the highest quality impression foam on the market. Always consistent and always reliable.
The Final Product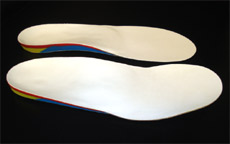 We ship the ortho-foam directly to Ortho-Rite based in New Rochelle, New York that manufactures the final set of orthotics. This company has a Certified Orthotist on premises at all times during the manufacturing process. You would have your custom made orthotics within 2-3 weeks. Most private insurance carriers will cover a set of custom orthotics if it is deemed medically necessary. Even the Ohio Bureau of Worker's Compensation will approve a set of custom orthotics for certain lower back and lower extremity injuries. If you have no private insurance we can have a set of custom orthotics made for a substantially discounted price, as long as they are paid for at the time the foam casts are taken.
If you would like to find out if custom orthotics could help you, contact Rockside Chiropractic to arrange a thorough examination in our practice.
---
Ortho-Rite Orthotics Garfield Heights OH | (216) 429-9700