Meet the Rockside Chiropractic Staff
Lindsey Rauscheder, Office Manager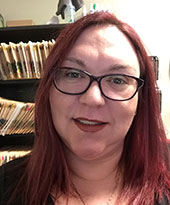 I was born and raised in Garfield Heights. I moved to Parma in 2008 where I live with my 4 furry babies Bootsy, Vader, Goobie and Callie. I started working at Rockside Chiropractic in October of 2003. I have a lot of experience working with private health insurance, worker's compensation and personal injury cases. It is rewarding to be able to assist patients with most of their insurance questions or help them understand the different stages and sometimes confusing process after suffering a work injury. I am not only an employee but receive regular chiropractic care. With looking at a computer most of the day along with typing you need to keep everything in good working order and chiropractic care helps me with that. I also credit regular chiropractic adjustments in helping keep me healthy during the allergy and flu seasons. I encourage everyone to at least have a consultation to get the information and the facts of how this type of health care can be helpful to you and your family.
---
Millia Sherrod, LMT (Licensed Massage Therapist)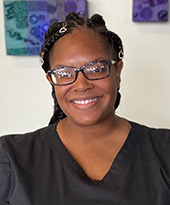 Hello! My name is Millia Sherrod. I'm a passionate and dedicated Licensed Massage Therapist. I've known since middle school that I wanted to help others, but I wasn't sure how until my little sister Talia was born.
At 19 months my little sister was diagnosed with a brain tumor and cancer. I was 10 years old at the time and didn't know anything about what my sister had. My parents took me to all of her doctor visits, chemo therapy appointments, and brain surgeries. I was also allowed to assist her nurses with physical and speech therapy. After experiencing all of these things over a number of years I knew then that I wanted to be a pediatric nurse.
My love and passion to help and heal others told me this is what I was meant to do. My inspiration and motivation were all thanks to my little sister Talia. I had my entire life planned out the moment I started high school at The Cleveland School of Science and Medicine at John Hay.
After graduating from high school, my first choice for college was Cleveland State University. I wanted to be close to home because I knew I would miss my little sister too much. I was so excited to be one step closer to achieving my goals and making my family proud, but when I was half way through my first semester my parents informed me that Talia's cancer had come back and ultimately caused her passing in November 2011. I was lost. I had given up. My motivation and inspiration had left me, and it changed my entire mindset.
I took some time off from school. I wanted to regain the passion I had to help and heal others, so I researched other nursing programs and thought about physical therapy but found massage therapy instead.
I thought it was a great idea! I can be there after an injury or a surgery to help you heal. That was the best decision that I could have made for myself. I went to Tri-C Eastern Campus for their 2-year Massage Therapy program (2014-2016), and I've loved massage ever since.
I'm glad to be a part of Rockside Chiropractic. Dr. Friedman and his team understand that this is what your body needs and are glad to help and assist with healing the body.
---
Elizabeth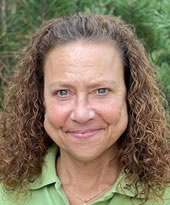 I ironically went to school to become a dental assistant because I love working with people and learning new things everyday. In 2020, my career path changed and I went into the Chiropractic field. I still get to work with people that I love just in a different atmosphere.
I met my bestfriend and now husband 17 years ago. We have been happily married for 13 years. We have two daughters together and a son from a previous marriage. We just recently have been blessed with the addition of a wonderful granddaughter.
When I am not at work, I love to cook and bake and spend time with my family. We often go hiking and we adore the amusement parks because of the thrill of the coasters. We spend at least one week a year on a vacation of choice to spend quality time together. My family is my everything. They have supported me through my ups and downs and change in careers.
Rockside Chiropractic has been the best choice I have ever made to be a part of. They are my second family. A family that cares about each and every patient that walks through the doors.